VISION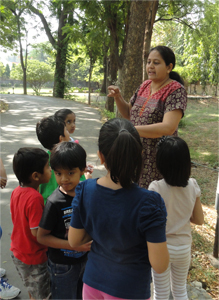 To inculcate creative problem solving attitude in children aged 7 to 14 years.
Present day careers involve a lot of creative thinking. A person cannot survive on a mere degree in Engineering, Pharmacy, and Science. Creativity and thinking out of the box are the need of the day. People, who can think creatively, only can lead.
MISSION
Is to design Science based fun activities so that children would understand the basic science concepts. While making these activities the focus will be that students will be given a lot of open ended opportunities which would help them in creative thinking.We aim to do this using the child's inherent ability to question and learn and thus increasingly develop a scientific attitude in the
FOUNDER
Dr. Monica Shah is the Founder and Director of Discovery Learning Center, Ahmedabad. She completed her doctorate degree in Environmental science from Gujarat University, Ahmedabad.
She was involved in teaching high-school students in Miami Sunset Senior High, Florida, United States and later at Eklavya School, Ahmedabad. During her tenure of teaching she engaged her students to explore their science aptitude. Currently, she is enthusiastically associated in organizing and planning science pedagogy and activities through a creative and hands-on practical lens. Broadening her applied skills she had volunteered to prepare an interactive 'sharks' exhibit at Miami Museum of Science, developing a butterfly garden, preparing a working model for digestive system of cow, and many such activities. It is her forte to be creative and engage students in understanding the basic concepts of science in an action-oriented approach.
Currently, at Discovery Learning Center, she brings her skills and experience together in creating a learning space so that science becomes a problem solving and experiential entity for her students.